Following yesterdays meeting and the really helpful insight from @hng regarding the experience of ColloCall and how they have technically set service levels I think we are going to need to wipe and re-create Greenlight accounts on both ca.meet.coop and demo.meet.coop in the process of re-configuring the servers to provide commercial services with fair use and privacy policies and so on.
I believe that with a lot of work we might just about be able to pull this off by 1sth July at the earliest and a have created a lists of tasks we need to complete and a draft set of service levels on the wiki, there is a screenshot of my initial version here: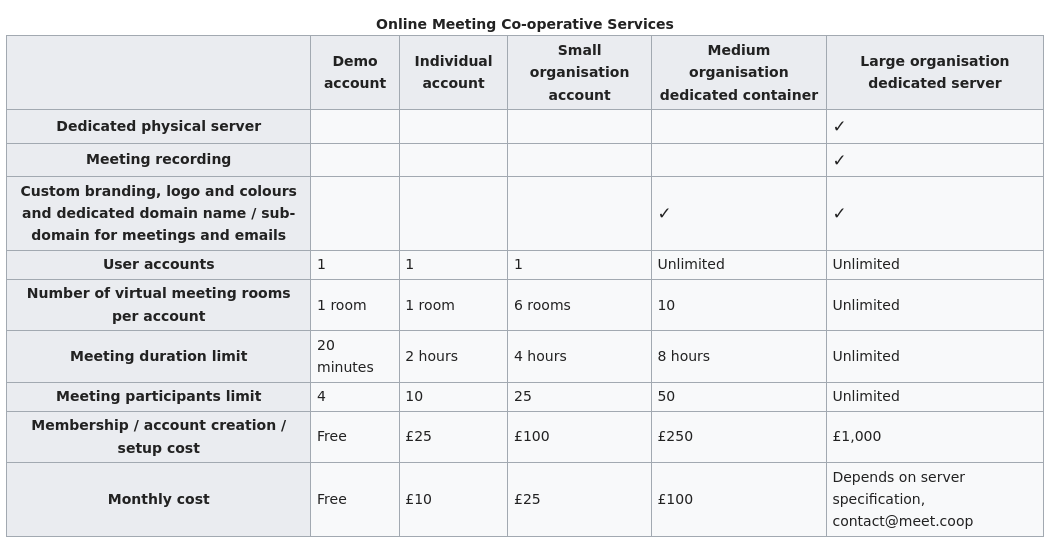 Please note that I don't have strong feelings regarding the number of meeting rooms per account, the meeting duration limits, the limits of the number of people per meeting room or the costs and these don't have much of a technical implication other than editing some variables, however the other aspects of what the service are can't realistically be changed if we want to start offering a service by 1st July as this is already a very tight timetable.
Take great care editing the table on the wiki with the WYSIWYG editor as it often removes rows, check that are all present when you open it and if they are not open it again before editing, or better click Edit source !